CONTRIBUTORS NOTES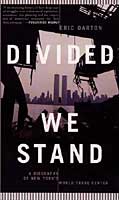 Eric Darton, is the author of Divided We Stand, A Biography of New York's World Trade Center (Basic Books, 2000), and a contributor to After the World Trade Center: Rethinking New York City (Edited by: Michael Sorkin, Sharon Zukin. Routledge, 2002.)
He was born in Greenwich Village in 1950. He began chronicling the transformation of his native city in the late '70s as art and performance editor for the East Village Eye. In recent years Darton has contributed articles on urban culture and institutions to Designer-Builder, Metropolis and Culturefront. His essays on the cultural history of the Depression-era US and the rise of European fascism were published in the companion volume to Tim Robbins's award-winning film "Cradle Will Rock."
Darton's critically acclaimed novel Free City (WW Norton, 1996) was subsequently published in German and Spanish editions. His short fiction collection Radio Tirane appeared in Conjunctions where he served as an editor for two years. He is currently fiction editor of American Letters & Commentary and a senior editor to the online journal Frigate.
Darton received his masters degree from Hunter College in 1994, where he subsequently taught media studies. He is a member of the faculty of Goddard College's MFA in Creative Writing Program and teaches private writing workshops. The recipient of a New York Foundation for the Arts Fellowship in Fiction, Darton was also awarded a Bread Loaf fiction Fellowship.
He lives in Manhattan with his wife and daughter.
---
For Martha Cooper, documenting vernacular art and architecture has been a longstanding pursuit, allowing her to combine skills as a professional photographer with her degrees in art and anthropology.
For over twenty years she has concentrated on photographing New York City's wide range of urban folk expressions, often working with folklorists and anthropologists on projects for books and museum exhibits. Martha is the Director of Photography at City Lore, the New York Center for Urban Folk Culture.
Links: http://www.nycitysnaps.com and http://www.citylore.org
---
Janet Arfin Kingan is a printmaker and mixed media artist whose work has been exhibited in the Boston area since the early 1980's. Originally from Long Island N.Y., Janet lived in London before settling with her family in southeastern Massachusetts.
Unafraid to work with difficult topics, the artist uses a variety of media to "tell the story." Using traditional printmaking techniques as well as "experiments" she creates gripping images that demand viewer participation. Recently she began to make hand bound books, and book-like sculptures. In addition to her most recent series documenting her response to the World Trade Center tragedy, other work has dealt with her parents' childhood, and issues of "obsolete" technology.
---
Joseph Milano, President of Elan Quest, L.L.C. , is a registered professional engineer, graduate of C.C.N.Y. (BEE) and Baruch College (MBA). He retired in 1990 from the Port Authority of NY & NJ as Manager of TelecommunicationsBusiness Development with over twenty five years of experience. He introduced and marketed the concept of Integrated Communications for the World Trade Center - the first civilian convergence of voice, data and video communications. He was responsible for planning telecommunications and information services for world trade oriented businesses.
Milano originated (at National Research Council), marketed and implemented the concept of telecommunications satellite parks (Teleports and KnowledgeTeleports), with fiberoptics regional transport.
Milano initiated, marketed and coordinated a series of workshops with NASA onthe Advanced Communications Technology Satellite, leading to commercial applications experiments in electronic distance learning.
Milano initiated, marketed and developed the concept of High Definition Television information systems for airports (AIRMEDIA.)
Joseph Milano has served on the National Research Council Committee onTelecommunications, the Advisory Board of Polytechnic University Forums onTelecommunications, the Advisory Board of the High School of Telecommunications Arts and Technology (NYC) and the High Definition 1125/60 Advisory Group.
Milano has also served as consultant to the U.S. Library of Congress.
---
Carl Selinger is an independent consultant in aviation, transportation and applying new technologies, following a 31-year career with The Port Authority of New York and New Jersey as Manager, Business Development for the Aviation Department. In this role he developed business, concessions and technology initiatives to improve services and increase revenues at Kennedy, LaGuardia and Newark airports -- one of the world's largest airport systems. His motto: "Ideas are always welcomed!"
Among his diverse professional interests, Carl originated a unique seminar -- "Stuff you don't learn in engineering school" -- to help engineers learn non-technical "real world" leadership skills like decision-making, setting priorities, negotiating, teamwork, running meetings, better writing and speaking, and being happier persons.
Carl has extensive college teaching experience at The Cooper Union, SUNY Maritime College, Pace University, New Jersey Institute of Technology and City College of New York. He holds civil and transportation engineering degrees from The Cooper Union, Yale University, and Polytechnic University. Carl and his wife Barbara have three grown children: Doug, Jeff and Debbie. His email address is selinger99@aol.com.
---
Additional Contributors' Notes to come.